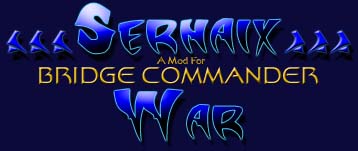 Here is where you can obtain all the VVSP mod ships for Bridge Commander. I will be releasing them individually, making the downloads faster, as well as making it easier to update. Click on an image to begin download of that ship. I recommend using the BC mod packager to install these ships into the game.
You can view the General Read Me here. I recommend you look at it at least once. It will also be in every ship zip file.
Welcome to the war,
Adm. Reptile
***note*** the link for the sernaix scout is currently not working, as the ship is not yet complete. The image is here because I released the ship in the sernaix war forum.
Valkyrie

The Valkyrie fighter Is currently the most advanced tactical fighter in the Federation. It is equipped with a modular weapons array, making it capable of accepting enhancements and augmented defence packages as they become available.

Weapons: -2 micro Pulse Phasers
-1 Type-4 Phaser
-10 Photonic Missiles -10 micro Quantums
-10 micro Torpedoes

Shields: 108 000 Terra Joules

Valkyrie - S

A Valkyrie fighter modified with sernaix enhancements. The enhancements allow for far greater firepower, increased top speed, a larger power supply, as well as a cloaking device. There are currently only 4 in service, all are aboard the U.S.S. Voyager-A.

Weapons: -2 micro Pulse Phasers
-1 Type-4 Phaser
-4 micro CB-XI Pulse Cannons
-2 micro Tachyon Phasers
-10 Photonic Missiles -10 micro Quantums
-10 micro Torpedoes

Shields: 108 000 Terra Joules

Sernaix Scout

The Sernaix Scout, while only a small vessel, is easily capable of engaging and destroying ships larger than a Galaxy Class. Difficult to see even when not cloaked, and highly maneuverable, the Scout makes for a formidable enemy.

Weapons: -3 CR-X Pulse Cannons
-2 Mark-X Torpedo tubes

Shields: Frozen Light Hull